All the World Is a Stage
Whether you enter our auditorium with years of experience or are setting foot on the stage for the very first time, John Carroll's thriving Dramatic Arts program is designed for all students with a passion for theatre. Many well-prepared JC students have gone on to study musical theatre, vocal performance, acting and film at prestigious colleges and universities including UCLA, NYU, The Pratt Institute and Savannah College of Arts and Design and to receive professional opportunities with Broadway productions as well as other professional and regional theatre companies.
Curricular Offerings
The Performing Arts Department curriculum offers the Acting I course, intended for beginning acting students as well as experienced actors. Emphasis is on the development of acting skills for the stage, including vocal productions, improvisation, stage directions, and character development. An overview of various methods of acting technique, stage terminology and production elements, i.e. set and lighting design, is included. Students will present a monologue and multi-character scenes, and perform in a one-act play before an invited audience.
In Acting II, the students further develop skills in acting by focusing on script and character analysis. Students perform in-depth improvisations; present one dramatic and one comedic monologue; and perform in a one-act play before an invited audience. Additional emphasis is given to the elements of directing and stage management.
Extracurricular Experiences
The John Carroll School Theatre Department produces two main stage musicals every year (fall and spring). The goal of this program is to nurture and sustain a high quality Performing Arts Department as students develop a passion that will stimulate them to achieve their full potential in theatre arts. All students, grades 9-12, experienced and inexperienced, are encouraged to participate. Students have the opportunity to audition for acting, singing, and dancing roles, while band and orchestra students may audition to participate in the pit orchestra. For students interested in the technical aspects of theatre, there are opportunities to participate in tech crew (light and/or sound), set crew, costuming, props and stage management positions.
Theatre Arts Season 2020-2021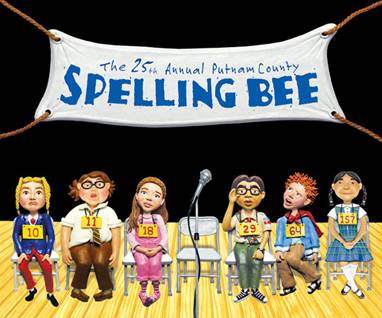 The 25th Annual Putnam County Spelling Bee
May 21 & 22 - 7:00 p.m.
May 22 & 23 - 2:00 p.m.
Director/Choreographer - Mr. Larry Hensley |   Producer/Music Director - Mrs. Julie Parrish
Winner of Tony and Drama Desk Awards, "The 25th Annual Putnam County Spelling Bee" has charmed audiences across the country with its wit and humor. An eclectic group of six students vie for the spelling championship of a lifetime. The tweens spell their way through a series of "interesting" words, hoping never to hear the soul-crushing, pout-inducing, life un-affirming "ding" of the bell that signals a spelling mistake. Six spellers enter……one speller leaves as champion. A riotous ride, complete with audience participation, "The 25th Annual Putnam County Spelling Bee" is a delightful den of comedic genius. 
The 25th Annual Putnam County Spelling Bee is presented through special arrangement with Musical Theatre International (MTI). All authorized performance material are also supplied by MTI. www.mtishows.com
READ SAFETY PROTOCOLS & PURCHASE TICKETS